Expert Auto Repair in San Bruno, CA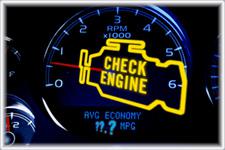 No matter if you need minor brake work or major engine repair, you want to be sure that you entrust your vehicle to a mechanic who has earned a strong reputation for providing top-quality service at fair rates. Here's a look at five types of repair offered by a trusted mechanic in San Bruno, CA.
Brake Repair in San Bruno
You just never know when an intoxicated driver might fly right through a stop light. In that pivotal moment, it's crucial that your braking system functions optimally. Early signs of brake trouble include squealing and grinding. A more advanced problem is that your car veers to one side when you hit the brakes.
Check Engine Light Diagnostics and Repair
When the check engine light comes on, it doesn't necessarily mean that you're on the brink of disaster. Nevertheless, you'll want to play it safe and get to the shop for diagnostics so that you don't risk needing expensive repairs that could've been prevented.
Transmission Repair
Because transmission issues can quickly escalate from minor to major, you'll want to get to the shop at the first sign of trouble in this department. Otherwise, you might find yourself with a steep repair bill for a problem that could've been nipped in the bud.
Suspension Repair in San Bruno
If it feels like you're driving over bumps, but the road is visibly smooth, then there's a good chance that suspension trouble is to blame. Another sign that your suspension is failing is that oil is leaking out onto your shocks.
Cooling System Repair
Because overheating can result in significant engine problems, you'll want to remedy cooling system issues when you first notice them. Signs of cooling system trouble include smoke rising from under your hood, as well as a high reading on your temperature gauge.

If you're in need of auto repair, be sure to get in touch with a reputable mechanic. For auto repair in South San Francisco, Pacifica, and San Bruno, CA, the experts to contact are at Richards Auto Repair at (650) 589-6880. Feel free to give Richards Auto Repair a call today to schedule an appointment for any of your repair or maintenance needs!
Richards Auto Repair Blog
Written and Published By MORBiZ