6 Issues that Can Prevent Your Car from Starting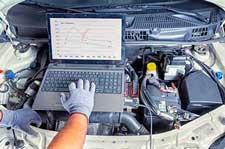 To get your vehicle to come roaring to life when you turn the key, a number of different parts need to function as they're supposed to. If there's a problem with any of these parts, you could find yourself unable to get moving down the road. Here's a look at six common causes of no-start.
Bad Fuel Pump
A failing fuel pump can prevent gas from transiting between your tank and engine. One sign of a bad fuel pump is herky-jerky acceleration.
Failing Starter
If you turn over the key and get nothing but a clicking sound, then you've got a classic sign of a bad starter.
Clogged Fuel Filter
By getting to the shop for fuel filter replacement every 20,000 miles or so, you can help to prevent a fully-clogged filter from causing no-start.
Dirty Fuel Injectors
If your fuel injectors are gunked-up, then your combustion chamber could have a hard time taking in the fuel needed to fire up. In this scenario, you could try using a fuel additive, but if you do use one, you'll want to make sure that you choose one that works well with your specific model and that you don't use too much of it.
Faulty Ignition Switch
Ignition switches create the electrical pathways necessary for your engine to fire up on all cylinders. One sign of ignition switch trouble is flickering dash lights.
Failing Alternator
Your alternator juices up your battery. If it fails, then your battery's power reserve is liable to run dry and leave you unable to get moving.

If you're in need of auto repair, be sure to get in touch with a reputable mechanic. For auto repair in South San Francisco, Pacifica, and San Bruno, CA, the experts to contact are at Richards Auto Repair at (650) 589-6880. Feel free to give Richards Auto Repair a call today to schedule an appointment for any of your repair or maintenance needs!
Richards Auto Repair Blog
Written and Published By MORBiZ