Stay Current on these 6 Fluid Flushes to Maintain Your Car's Health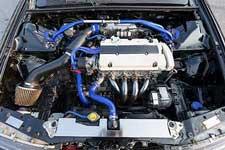 Because dirt and other contaminants can pollute your automotive fluids, you'll want to be sure to stay up to date on your fluid flushes. While there are some general guidelines for how often these flushes should be done, it's always best to consult your owner's manual to see what is best for your particular model. Here's a look at six fluid flushes provided by a reputable mechanic in San Bruno, CA.
Differential Fluid Flush
It's through your differential that power generated by your engine goes on to turn your wheels. This is a highly-specialized kind of fluid and should flushed somewhere between 30,000 and 60,000 miles.
Coolant Flush
Coolant should be flushed at about every 40,000 miles. Because overheating can cause serious engine trouble, you'll want to always keep up with cooling system maintenance.
Brake Fluid Flush
Although there is some disagreement among mechanics on how often brake fluid should be flushed, you can play it safe by getting this done every 20,000 miles.
Power Steering Flush
By completing this flush every other year, you'll decrease the chances of having to wrench on your wheel just to get it to turn, while also reducing the possibility of a leak in your rack & pinion system.
Transmission Fluid Flush
This is typically completed at some point between 50,000 and 100,000 miles, but you can refer to your owner's manual for more specific guidelines.
Oil Change in San Bruno
By getting your oil changed at an actual auto shop, rather than at an express lube joint, you could benefit from an expert mechanic spotting a developing issue that can then be remedied before it requires expensive repairs.

If you're in need of auto maintenance, be sure to get in touch with a reputable mechanic. For fluid flushes in South San Francisco, Pacifica, and San Bruno, CA, the experts to contact are at Richards Auto Repair at (650) 410-8369. Feel free to give Richards Auto Repair a call today to schedule an appointment for any of your repair or maintenance needs!
Richards Auto Repair Blog
Written and Published By MORBiZ